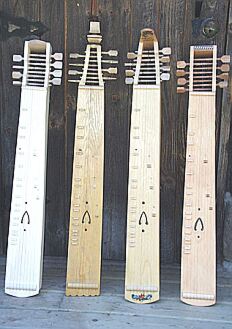 Norwegian Langeleik
The langeleik is considered a medieval instrument. The oldest surviving langeleik is dated 1524. In the Valdres district, langeleik players were still found in the l950's. In the l960's, a revival of folk instruments occurred most notably in the Gjovik area, as well as in Valdres.
The basic shape of the langeleik is consistent throughout Norway. However, the "head" varies considerably from district to district. In Valdres, the shape was affected by the hardanger fiddle--hence a s crolled head. In Telemark, the head often was placed vertically and carved ornately.
Cost $600.00 plus shipping and sales tax.