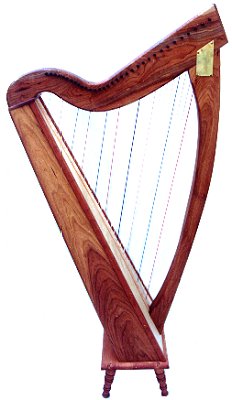 Celtic Harps
My wife has taught harp for over 14 years. This harp is a result of her teaching. She found it difficult to find affordable, yet full-tension harps with good sound. Following her request for such a harp, I spent 3 months in my workshop and the Dahl 33 is the result.
My harps are made of solid wood (Cherry). The soundboards are a birch laminate from Finland. Number of strings is 33. The lowest note is "C" two octaves below middle "C". I install 13 Loveland Sharping levers on the mid-range "B", "C", "F" and "G" strings. A full set of sharping levers are available at an additional cost.
Height 53 inches, Weight 18 pounds
Cost $2000.00 plus shipping and sales tax.
My Harps are guaranteed for 3 years.